The world No3 is on a high after winning his first PGA tour title for 16 months just dont pick him up on his pumping-iron regime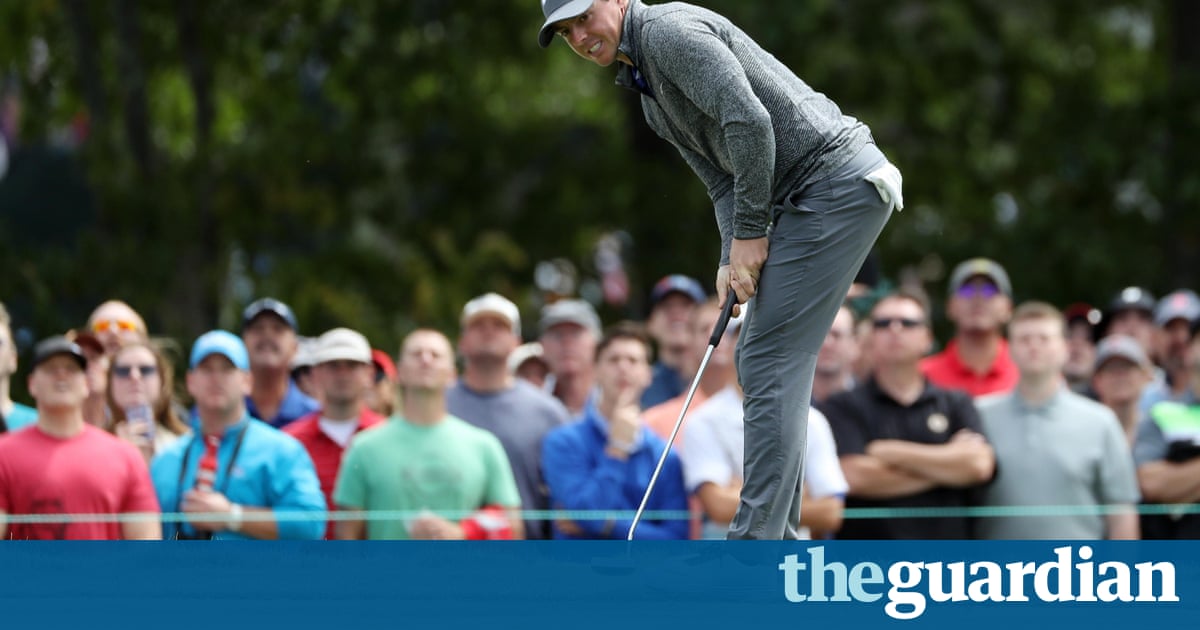 During this, a year when he has been subject to more scrutiny than is routine, even for a sportsman of his status, Rory McIlroy admits he has been more irked by comments relating to his intense fitness regime than shortcomings on the course.
McIlroys stunning success at the Deutsche Bank Championship on Monday ended a wait of 16 months for a win on the PGA Tour. He was four over par three holes into the tournament before playing the next 69 in 19 under. Earlier in my career, maybe when I wasnt as mature, Id let my head drop, my shoulders slump, he said. Thats something I feel like Ive got better at over the last three or four years.
For McIlroy, who has been restored to No3 in the world, 2016 will pass without a major title. Despite regular glimpses of brilliance, putting troubles have undermined so much of his season; a matter that for now appears to be behind him.
Analysis, positive and negative, regarding McIlroy is never slow in appearing. Reflecting on his two-shot win in Boston, the 27-year-old pointed towards the strand of that which irks him most.
I dont know if any criticism is unfair, McIlroy said. I think when people make judgments or criticisms without being educated on the subject like me getting in the gym, for example. Thats my pet peeve, someone who says to me: Youre in the gym too much.
The reason I play at such a high level and hopefully will continue to play at a high level for the next 10, 15 years is because of the work I did in the gym. If I wasnt in the gym, I wouldnt be sitting here today. Its a big part of who I am, its a big part of my success. That, I always feel, is an unfair criticism.
But with my game, the critics and the analysts, and everyone out there, theyre educated about golf so they for the most part know what theyre talking about. A criticism of my game, I take it, and I know what I need to work on and sometimes those people point out the obvious. But I would say the most unfair criticism I receive is what I do in the gym.
There is a wider resonance to McIlroys point. Not only should he be applauded for taking being an athlete seriously but golf coaches in his native Northern Ireland now point towards a similar approach among emerging talent. And yet, the six-times major champion Nick Faldo has been among those to question McIlroys workout routine.
McIlroys immediate focus is on the BMW Championship, which begins at Crooked Stick, Indiana, on Thursday. Suddenly, a hitherto low-key year could end in the most positive of styles if he wins the $10m FedEx Cup. The small matter of the Ryder Cup follows on 30 September.
I feel excitement more than relief, McIlroy said. I wasnt getting impatient, I wasnt searching for things. I know I hadnt won on the PGA Tour in a while but over the past 12 months Ive still had three wins worldwide.
This was obviously the biggest of those three but I knew my game was in good shape, I just needed to do something with the putting. I found something. I still need to keep going with it. Its definitely not the finished article but its a big step in the right direction.
Phil Kenyon, who also tutors the Open champion Henrik Stenson, has recently taken on the role of McIlroys putting coach. I looked at all the guys Phil works with and none of them looked the same, McIlroy said. They all putt differently, they all have their different mannerisms, so I knew Phil wasnt going to have me get into a certain position I didnt want to be in or felt uncomfortable with.
He was more: You figure it out yourself a little bit, but this is what you need to do, this is where you need the putter to be at certain points in your stroke, and then just figure out a way to do it. He just lets us figure it out in our own ways and thats the one thing I really liked about him.
History is now on McIlroys side. When he last won the Deutsche Bank, four years ago, he proceeded to lift another trophy at Crooked Stick. The course may play a little bit different this year, it mightnt be quite as wet and I know they made a few changes, McIlroy said. But it was a great leaderboard four years ago. Lee Westwood was up there, Tiger Woods, Phil Mickelson, Adam Scott. I remember a lot about that week, I have positive vibes going back there.
Read more: https://www.theguardian.com/sport/2016/sep/06/rory-mcilroy-pet-peeve-gym-boston-win